If you doubt me, think about one important choice that you have made recently that was not in some way influenced by something that you have seen on television. I bet you can't think of one. That's how controlled you are.Editor's Comment: Below is an excellent article I found at WarIsCrime.com. It is about the dangers of watching television, especially the brainwashing aspect of it. My family mostly uses the television to watch DVDs taken out from the local library. Other then that, I do watch the morning talk shows, world news, and a couple of sitcoms during the week. I do not have a paid service. No cable, no satellite, no dish, no streaming services. I have a converter box and antenna. But after reading the following article, I'm going to get rid of the converter box and antenna. And I'm going to be much more selective with what I get from the library. Even movies have propaganda. I do notice when I watch the world news that it just angers me because it is mostly propaganda. Just because I know that doesn't mean I'm not being brainwashed. The part that worries me the most is children watching television. What we thought was unacceptable or immoral 20 or 30 years ago is now accepted without question. So I'm done. Read the article and let me know if you will join me. There are many benefits to eliminating television. Here are a few: (1) save money from cable or other subscriptions, (2) more time to get projects completed, (3) more time with family and friends, (4) more time for reading, (5) more time for cooking healthier meals, (6) lose weight -- those who watch TV weigh more than those who don't, (7) more successful -- the more TV you watch, the less successful you are likely to be, and (8) improve cognitive function -- those who watch TV over time have poorer memories.
Lonnie Wolfe |
New Federalist
V6, #29 via
Hack Canada
Originally published October 23, 2012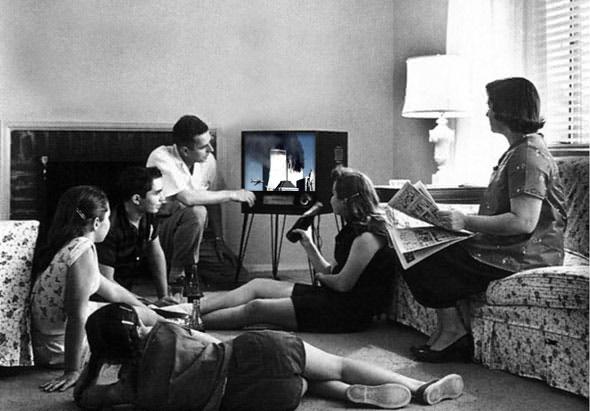 Hey buddy, I'm talking to you. Yes, you, the guy sitting in front of the television. Turn down the sound a bit, so that you can hear what I am saying.
Now, try to concentrate on what I am going to say. I want to talk to you about your favorite pastime. No, it's not baseball or football, although it does have something to do with your interest in spectator sports. I'm talking about what you were just doing: watching television.
Do you have any idea about how much time you spend in front of the television set? According to the latest studies, the average American now spends between five and six hours a day watching television. Let's put that in perspective: that is more time than you spend doing anything else but sleeping or working, if you are lucky enough to still have a job. That's more time than you spend eating, more time than you spend with your wife alone, more time than with the kids.
It's even worse with your children. According to these same studies, young children below school age watch more than eight hours each day. School age children watch a little under eight hours a day. In 1980, the average 20-year-old had watched the equivalent of 14 months of television in his or her brief lifetime. That's 14 months, 24 hours a day. More recent figures show that the numbers have climbed: the 20-year-old has spent closer to two full years of his or her life in front of the television set.
At the same time, the researchers have noted a disturbing phenomena. It seems that we Americans are getting progressively more stupid. They note a decline in reading and comprehension levels in all age groups tested. Americans read less and understand what they read less than they did 10 years ago, less than they have at any time since research began to study such things. As for writing skills, Americans are, in general, unable to write more than a few simple sentences. We are among the least literate people on this planet, and we're getting worse.
It's the change — the constant trendline downward — that interests these researchers. More than one study has correlated this increasing stupidity of our population to the amount of television they watch. Interestingly, the studies found that it doesn't matter what people watch, whether it's "The Simpsons" or "McNeil/Lehrer," or "Murphy Brown" or "Nightline': the more television you watch, the less literate, the more stupid you are.
The growth in television watching had surprised some of the researchers. Back a decade ago, they were predicting that television watching would level off and might actually decline. It had reached an absolute saturation point. They were right for so-called network television; figures show a steady dropoff of viewership. But that drop is more than made up for by the growth of cable television, with its smorgasbord of channels, one for almost every perversion. Especially in urban and suburban areas,
Americans are hard-wired to more than 100 different channels that provide them with all news, like CNN, all movies, all comedy, all sports, all weather, all financial news and a liberal dose of straight pornography.
The researchers had also failed to predict the market penetration of first beta and then VHS video recorders; they made it possible to watch one thing and record another for later viewing. They also offered access to movies not available on networks or even cable channels as well as home videos, recorded on your own little camcorder. The proliferation of home video equipment has involved families in video-related activities which are not even considered in the cumulative totals for time Americans spend watching television.
You might not actually realize how much you are watching television. But think for a moment. When you come home, you turn the television on, if it isn't on already. You read the paper with it on, half glancing at what is on the screen, catching a bit of the news, or the plot of a show. You eat with it on, maybe in the background, listening for a score or something that happens to a character in a show you follow. When something you are interested in, a show or basketball game, is on, the set becomes the center of attention. So your attention to what is on may vary in intensity, but there is almost no point when you are home, and inside, and have the set completely off. Isn't that right?
The studies did not break down the periods of time people watched television, according to the intensity of their viewing. But the point is still made: you compulsively turn the television on and spend a good portion of your waking hours glued to the tube. And the studies also showed that many people can't sleep without the television turned on!
Brainwashing
Now, I'm sure you have heard that watching too much television is bad for your health. They put stories like that on the evening news. Bad for your eyes to stare at the screen, they say. Especially bad if you sit too close. Well, I want to make another point. We've already shown that you are addicted to the tube, watching it between six and eight hour a day. But it is an addiction that brainwashes you.
There are two kinds of brainwashing. The one that's called hard brainwashing is the type you're most familiar with. You've got a pretty good image of it from some of those old Korean war movies. They take some guy, an American patriot, drag him into a room, torture him, pump him full of drugs, and after a struggle, get him to renounce his country and his beliefs. He usually undergoes a personality change, signified by an ever-present smile and blank stare.
This brainwashing is called hard because its methods are overt. The controlled environment is obvious to the victim; so is the terror. The victim is overwhelmed by a seemingly omnipotent external force, and a feeling of intense isolation is induced. The victim's moral strength is sapped, and slowly he embraces his torturers. It is man's moral strength that informs and orders his power of reason; without it, the mind becomes little more than a recording machine waiting for imprints.
No one is saying that you have been a victim of hard brainwashing. But you have been brainwashed, just as effectively as those people in the movies. The blank stare? Did you ever look at what you look like while watching television? If the angle is right, you might catch your own reflection in the screen. Jaw slightly open, lips relaxed into a smile. The blank stare of a television zombie.
This is soft brainwashing, even more effective because its victims go about their lives unaware of what is being done to them.
Television, with its reach into nearly every American home, creates the basis for the mass brainwashing of citizens, like you. It works on a principle of tension and release. Create tension, in a controlled environment, increasing the level of stress. Then provide a series of choices that provide release from the tension. As long as the victim believes that the choices presented are the only choices available, even if they are at first glance unacceptable, he will nevertheless, ultimately seek release by choosing one of these unacceptable choices.
Under these circumstances, in a brainwashing, controlled environment, such choice-making is not a "rational" experience. It does not involve the use of man's creative mental powers; instead man is conditioned, like an animal, to respond to the tension, by seeking release.
The key to the success of this brainwashing process is the regulation of both the tension and the perceived choices. As long as both are controlled, then the range of outcomes is also controlled. The victim is induced to walk down one of several pathways acceptable for his controllers.
The brainwashers call the tension-filled environment social turbulence. The last decades have been full of such social turbulence — economic collapse, regional wars, population disasters, ecological and biological catastrophes. Social turbulence creates crises in perceptions, causing people to lose their bearings. Adrift and confused, people seek release from the tension, following paths that appear to lead to a simpler, less tension-filled life. There is no time in such a process for rational consideration of complicated problems.
Television is the key vehicle for presenting both the tension and the choices. It brings you the images of the tension, and serves up simple answers. Television, in its world of semi-reality, of illusion, of escape from reality, is itself the single most important release from our tension-wracked existence. Eight hours a day, every day, through its programming, you are being programmed.
If you doubt me, think about one important choice that you have made recently that was not in some way influenced by something that you have seen on television. I bet you can't think of one. That's how controlled you are.
Read remainder of article at
WarIsCrime.com